Networks
Nursing.Midwifery Digital Health Network
Nursing and midwifery informatics has a unique role in ensuring a digitally enabled health system delivers on the promise of better health outcomes for all Australians. Nursing is the largest single profession in the healthcare workforce and provides continuous care to patients during inpatient stays and to consumers within community and primary healthcare settings. The role of nurses and midwives in the digital environment has the potential to not only deliver improvements in efficiency and patient outcomes, but also to facilitate an improved consumer and clinician experience.
About the Nursing.Midwifery Digital Health Network
The Nursing.Midwifery Digital Health Network (DHN) is the pre-eminent group of nursing and midwifery informaticians in Australia. Membership is open to all registered nurses and registered midwives.
The DHN promotes nursing and midwifery informatics priorities such as appropriate language, education and ongoing research. It engenders nursing and midwifery to embrace information and communication technologies, and establishes strong foundations for taking these developments forward.
It also ensures nursing and midwifery has the data and resources to continue to provide evidence-based, quality, cost-effective and outcome-driven care for patients and clients into the future.
White Paper
Learn more about the instrumental role of nurses and midwives in digitally transforming healthcare by downloading the Position Statement.
The AIDH Nursing.Midwifery Digital Health Network is pleased to invite you to participate in the inaugural Nursing and Midwifery Digital Health Conference (#NMDHC23), Australia's only nursing informatics dedicated event, to be held in Sydney on Saturday 8 July 2023. This conference has evolved from the Nursing Informatics Australia conference, and this year's theme is Creating a digitally savvy workforce.
In line with the theme of MedInfo 2023 (THE FUTURE IS ACCESSIBLE), our event theme aims to inspire nurses and midwives to become digitally empowered in the future delivery of care to achieve quality outcomes across all healthcare settings.
Interested in a career in nursing or midwifery informatics?
Nurses and midwives wanting to increase their knowledge and/or skills in nursing, midwifery, or health informatics have several avenues.
Several universities have postgraduate coursework programs and nurses and midwives are advised to contact local universities to ascertain if they provide relevant programs or courses in both on-campus or distance education mode. The Institute provides a list of Health Informatics degree course and short course providers in Australia and New Zealand.
There are also a variety of user-pay or free MOOCs (Massive Open Online Courses) that address specific concepts within nursing, midwifery, or health informatics. Entering nursing or midwifery informatics MOOCs into a search engine will produce a list of available courses and their commencement dates. MOOC platforms include Coursera, edX, Udacity, Open Yale, Udemy. Khan Academy, Alison, FutureLearn, and courses address Nursing Informatics, Health Informatics, Digital Health, and eHealth, and Data Analytics.
Nurses and midwives who have experience in nursing, midwifery, or health informatics and want their skills formally recognised may elect to undertake certification via the Certified Health Informatician Australasia (CHIA) program, developed by HISA (Health Informatics Society of Australia), ACHI, and HIMAA (Health Information Management Association of Australia).
Editorials & community blogs
If you would like to contribute to our network and have something to say, send us an email.
The rapid spread of the COVID-19 pandemic in 2020 resulted in lockdowns and stay-at-home mandates in over 90 countries (Majumdar & Wood, 2020). Emerging data from front line health and support services reported that during this period, violence against women had...
read more
As the Institute embarks on its new strategy to shift the dial on our nation's transition to a digital health future, we're asking for the support and involvement of our Fellows and members.
read more
Congratulations to the new AIDH Branch Committees Thank you to everyone who nominated in the recent Branch elections, there was a record number of nominations this year with five of the six Branches going to a member vote. It was a competitive election...
read more
IMIA-NI is the international organisation for health and biomedical informatics. The goal of IMIA-NI is to promote collaboration among nurses and others interested in Nursing Informatics in order to advance the field. The special Interest group seeks to...
read more
Dr Virginia Saba passed away on 20 November. Virginia was an early pioneer in the field of informatics and contributed significantly to the development of the discipline of nursing informatics. Working within the US public health service, her early work focused on...
read more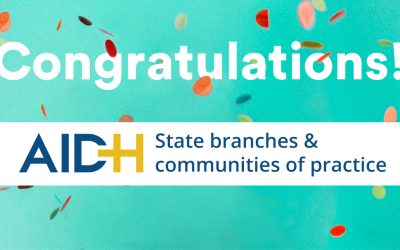 Thank you to everyone who nominated in the AIDH community elections where branches and community of practice leaders were elected. Congratulations to the successful nominees! The following nominees were voted into branch leadership: Victoria branch:...
read more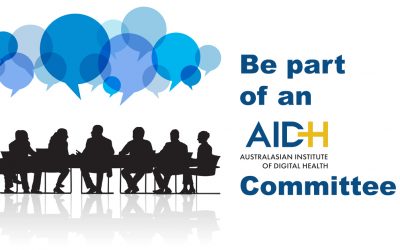 The Institute is calling for nominations from eligible members who would like to hold a leadership position within one of our six CoP Committees. Being part of a CoP Committee is a great way to contribute to a community focused on building the digital...
read more
NaM Strategy
The Nursing Midwifery Community of Practice has launched its Strategic Plan for 2021 which aligns to the AIDH Strategy pillars of workforce advancement, leadership and advocacy, community engagement and organisational excellence.
Nursing Informatics Strategic Paper
A framework for nursing informatics in Australia
International Council of Nurses
Operated by nurses and leading nursing internationally, ICN works to ensure quality nursing care for all and sound health policies globally.
Nursing Informatics Position Statement
The first national statement to affirm the role of nurses in digital healthcare at all levels and in all health settings.
Celebrating the Moya Conrick winners
2019 Leanna Woods Melbourne
2018 Joanne Reid Sydney
2017 Suki Loe Brisbane
2016 Naomi Dobroff Melbourne
2015 Bernice Redley Brisbane
2014 Josephine Stevens Melbourne
2013 Johanna Westbrook Adelaide
2012 Livio Ciacciarelli Sydney
2011 Susan Moller Brisbane
2010 Sharon Downman Melbourne
Nursing.Midwifery Informatics on Digital Health TV
A member-exclusive benefit featuring hundreds of videos.
Forecasting informatics competencies for nurses in the future of connected health
Nursing midwifery leadership and health informatics
Australian nurses experience with nursing informatics
The Institute hosts dozens of events nationally each year.
Have an interest in Nursing or Midwifery Informatics?
Are you involved in nursing or midwifery informatics or want to be? Do you have any suggestions, ideas or would like to get involved in this network?
Want to join the Institute?
Do you want to join our community? As a valued member of the Institute, you will have a voice in shaping the future of healthcare.